---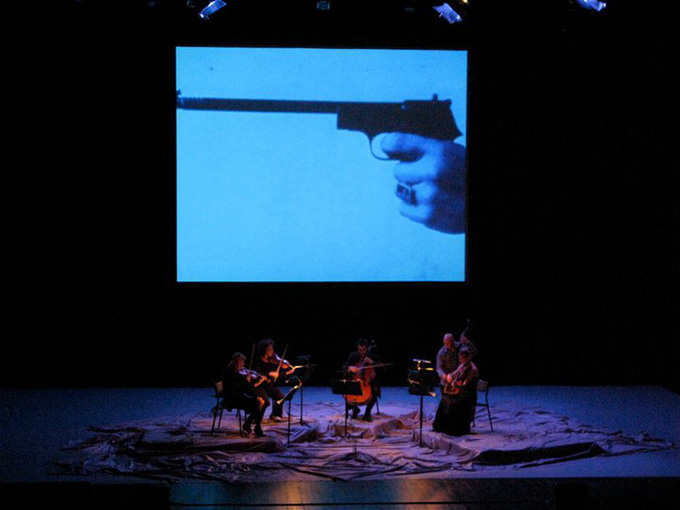 ---
Divine Féminin - New Version
Musical drama, written, directed and directed by Solrey
Premiere on November 9, 2021 at the Auditorium of the Musée d'Orsay (Paris, France)
Solrey brings to each Traffic Quintet show a radically new approach to film music combined with abstraction-touching video projections that she produces.
Sacrificial and fatal women, from Medea played by Maria Callas to Isabelle Adjani for Camille Claudel, and to the fall of the eternal Marylin Monroe... Solrey offers here at the Traffic Quintet an authentic musical show in a vibrant tribute to these heroines who have become myths of our universal history.
The emblematic composers of the 7th art, Bernard Hermann, Phillip Glass or Alexandre Desplat will meet there the musical universe of Pascal Dusapin, as well as that of Jacques Monory and Ange Leccia who will carry throughout the film an inhabited vision of the eternal womanhood...
Traffic Quintet
Violin: Bertrand Cervera, Elsa Benabdallah
Viola: Estelle Villotte
Cello: Raphaël Perraud
Double Bass: Philippe Noharet
Video projections: Solrey
Transcripts: Dominique Lemonnier, Alexandre Desplat, Jean Pascal Beintus
Program
Pascal Dusapin : Medea material
Gabriel Yared : Camille Claudel
Bernard Herrmann : Psycho, Vertigo, Fahrenheit 451
Alex North : The Misfits
Jerry Goldsmith : Basic Instinct, Chinatown
Philip Glass : The Hours
Air : Virgin Suicides
Alexandre Desplat : Birth
Premiere on Tuesday, November 9, 2021 at 12:30 p.m. as part of Orsay en scène
at l'auditorium du Musée d'Orsay
Esplanade Valéry Giscard d'Estaing 75007 Paris, France
Reservation required HERE
Divine Féminin
A musical drama in four acts, written and directed by Solrey
First performance September 26th, 2009 at Musica Festival, Strasbourg

Transcriptions of works by: Air, A. Desplat, P. Dusapin, P. Glass, J. Goldsmith, B. Herrmann, A. North, G. Yared
Video Design, Tribute to Jacques Monory: Solrey and Ange Leccia
Set designer: Bruno Cohen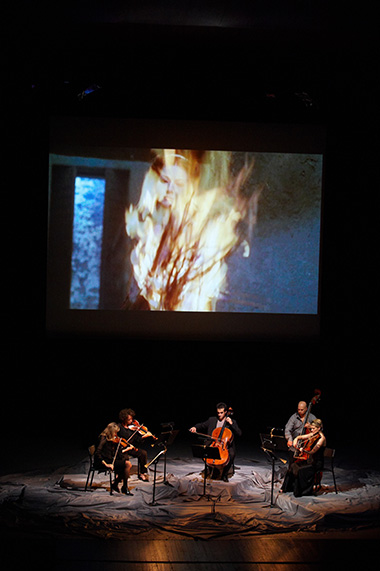 Traffic Quintet
Violin: Dominique Lemonnier, Anne Villette
Viola: Estelle Villotte
Cello: Raphaël Perraud
Double Bass: Philippe Noharet

Produced by Alexandre Desplat for Galilea Music
With the support of the Fondation d'entreprise Hermès
and the SACEM Action Fund
After a first, fruitful experience in the music of Nouvelle Vague films, the Traffic Quintet is now tackling the rhythmical and symphonic structures of composers who have been working – in many a film – with women who are mysterious, pernicious, terrified or fragile, even icily blonde, like those whom Hitchcock liked to direct...
From Medea to Marilyn
The Traffic Quintet performs film music with an original formation - the string quintet, while combining and punctuating their musical performances with visual creations.
After a successful first show dedicated to French Nouvelle Vague cinema, Solrey has created a new program around actresses who, each in their own way, have become myths.
Whether they have been long incorporated into the collective unconscious (Marilyn Monroe, Ingrid Bergman or Maria Callas) or whether they are currently in the process of becoming icons (Nicole Kidman, Sharon Stone and Isabelle Adjani), these female figures accompany us in the search for the ancient and universal myth of Medea.
We see Maria Callas, during her only appearance on the silver screen, in the role of Pier Paolo Pasolini's Medea. This mythical figure is the common theme of Divine Féminin, a musical drama in four acts, each one beginning with a musical fragment of Medea material from Pascal Dusapin's opera.
Murderous, deep, lost women - together the creator Solrey and the videomaker Ange Leccia revisit the vibrant theme of the "eternal feminine", and also pay homage to the painter most inspired by American film noir, Jacques Monory. Une espèce de cinéma des songes - A kind of cinema of dreams (J. Monory) is born of their encounter with the composer Alexandre Desplat. At the crossroads of genres and disciplines, the Traffic Quintet confirms its mission: to do film music justice by associating it with elaborate artistic projects.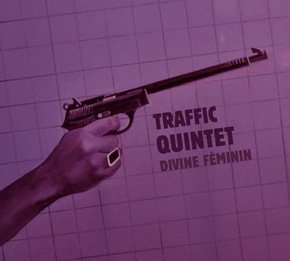 | | | |
| --- | --- | --- |
| 1. | Basic Instinct (J. Goldsmith) | 5:57 |
| 2. | Vertigo (B. Herrmann) | 4:01 |
| 3. | Psycho (B. Herrmann) | 3:59 |
| 4. | Medeamaterial I (P. Dusapin) | 2:44 |
| 5. | Fahrenheit 451 (B. Herrmann) | 2:29 |
| 6. | The Misfits I (A. North) | 3:35 |
| 7. | The Misfits II (A. North) | 2:28 |
| 8. | I'm Through With Love (F. Livingston/M. Malneck/G. Kahn) | 2:15 |
| 9. | Medeamaterial II (P. Dusapin) | 4:35 |
| 10. | Chinatown (J. Goldsmith) | 6:50 |
| 11. | The Hours (P. Glass) | 3:38 |
| 12. | Virgin Suicides (Air) | 4:52 |
| 13. | Medeamaterial III (P. Dusapin) | 3:00 |
| 14. | Birth - Elegy (A. Desplat) | 4:29 |
| 15. | Birth - Valse (A. Desplat) | 1:50 |
| 16. | As Time Goes By (H. Hupfeld) | 2:44 |
---
---
---
Jacques Monory
---
Born in Paris (1924). Lives and works in Cachan, near Paris.
From the very beginning, Jacques Monory's work has been a catharsis of the fear of death. Very directly with Meurtres, always more or less stealthily, a hint of catastrophe through very cinematographic subjects. Personal obsessions face collective myths. A passionate pessimist, his painting, films and texts make him a pertinent witness to our lives. An icily ironic view of the world; his humor is sometimes tinted with tenderness where women's faces pass.
He always paints in series: Meurtres / Velvet Jungle / Dreamtiger / Mesures / Le Catalogue Mondial des Images Incurables / Opéras Glacés / Technicolor / Ciels, Nébuleuses et Galaxies / Fuites / Jardinage / Métacrime / La Voleuse / Noir / Enigmes / Ex-crime / Les éléments du désastre / Baisers / Nuit / La vie imaginaire de Jonq' Erouas Cym / Vitrines / Couleur / Abréviation du vide/ Roman-photo/ Peintures sentimentales/ Tigres...
Jacques Monory is a romantic at a time where his expression can only take on an appearance of realist dandyism.
---
Bruno Cohen, set designer
---
Set designer, filmmaker and director, Bruno Cohen has created numerous theatre, videography and scenography projects. He has also produced countless exhibitions and following the great tradition of visual arts in France, he has directed over fifty virtual theatre projects for museums and live performances.
For over twenty years he has combined new digital technology and the performing arts: Dialogues imaginaires, virtual theatre for the Jacques Callot year in Nancy; camera virtuosa at the ZKM in Karlsruhe, part of the permanent collection at the Media Museum; mais... l'ange, an installation presented in Montbéliard, Belfort and Prague. For Avignon off 2005 (Théâtre de la Manufacture) he created des-illusions, a composite show that mixes dance, theatre, virtual images and music.
Today he continues his work by writing and experimenting with composite artistic mechanisms that mix actors and virtual images within museography, choreography and theatre projects. Among his recent projects is a journey through time at the Théâtre Antique d'Orange in cooperation with Chorégies d'Orange and Roberto Alagna.
---

BACK TO TOP