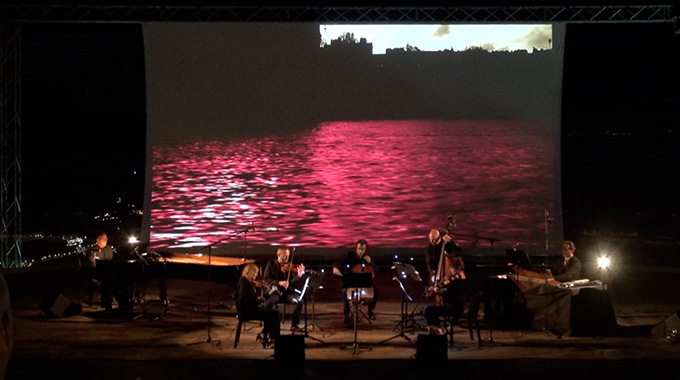 ---
Quai de Scènes
a show by Solrey
performed March 24th, 2013 at Cité de la Musique in Paris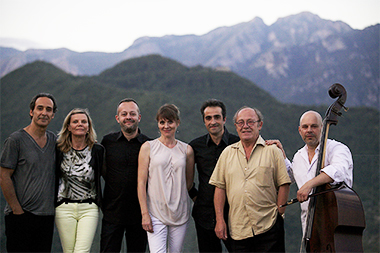 Music: Alexandre Desplat
Video Images: Solrey
Scenography: Stéphane Vérité
Traffic Quintet and their Guests
Violin: Dominique Lemonnier, Thibault Vieux
Viola: Estelle Villotte
Cello: Raphaël Perraud
Double Bass: Philippe Noharet

Exceptionally featuring
Alexandre Desplat (flutes, percussions)
and Alain Planès (piano)
---
In this new show Solrey combines and associates memories, dreams, subliminal images, silences, and invites us to share a walk, sometimes melancholic, along the banks of cult films of French cinema.
The river, a mysterious character, the unconscious of the city, the heart of the town, drags the history of Paris. Its course is sinuous, unpredictable. Its muddy color, dark and black, sometimes impregnates the cinema with a smell of corpses thrown down the docks during these historic nights, under the reflection of the Louvre's silver roofs. Marguerite Duras immortalized them in Césarée, Jean-Luc Godard made them political in L'éloge de l'amour, and they were magnified by Leos Carax in Les amants du Pont Neuf. Solrey and Ange leccia present for their fourth collaboration, a video creation where in the course of a journey along the bridges, the elevated railroad, and the perpetual motion entailed by the Seine, you can see Juliette Binoche floating above the river, or hear a distant voice evoking a movie from the past that project ourselves into a vibrant, contemporary and dreamlike vision into an established reverie.
The Seine is timeless, elusive. Sometimes on its banks a slight waltz lets itself be heard and animates, for the time of a transient tavern, the river's sleepless nights.
Music flows as a continuous stream, lyrical and refined on the banks where Alexandre Desplat, the French ambassador of this refined French music around the world, wrote his best film scores. Traffic Quintet with which the composer has forged close ties since its creation pays him a tribute by interpreting his scores where emotional strength, depth, melancholy, singularity, sensitivity and sometimes light-heartedness reflect the central character: the river.
A Galilea Music Coproduction
---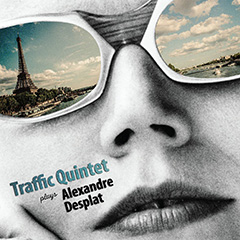 | | | |
| --- | --- | --- |
| 1. | The King's Speech | 3:40 |
| 2. | Girl With a Pearl Earring | 5:36 |
| 3. | Love, etc | 4:27 |
| 4. | Le Plus Bel Age | 2:46 |
| 5. | Un Héros Très Discret | 4:38 |
| 6. | The Ghost Writer | 4:05 |
| 7. | The Tree Of Life | 4:19 |
| 8. | Un Prophète | 8:46 |
| 9. | Extremely Loud and Incredibly Close | 5:11 |
| 10. | Lust, Caution | 6:24 |
| 11. | Chéri | 4:54 |
| 12. | Sur Mes Lèvres | 5:23 |
| 13. | Coco Avant Chanel | 4:05 |
---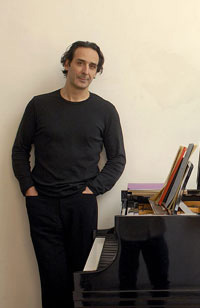 Alexandre Desplat, composer
Alexandre Desplat's official website
If his music for Jacques Audiard's films Sur mes lèvres and De battre mon cœur s'est arrêté (Silver Bear at the Berlin Film Festival 2005, César Award in 2006) established his credibility in French cinema, it was with his scores for The Girl with the Pearl Earring, Birth and Syriana that Alexandre Desplat launched his career as one of the most active European composers in Hollywood. An innovative artist with original expression and a prolific composer who already has over 80 feature films to his credit, he is a worthy successor to the French masters of film music Georges Delerue, Antoine Duhamel and Maurice Jarre.
Among his recent scores are the soundtracks for The Queen (Stephen Frears), for which he received an Oscar nomination, The Painted Veil by John Curran which earned him the Golden Globe Award 2007, Un Prophète (Jacques Audiard), Lust, Caution (Ang Lee), The Curious Case of Benjamin Button (David Fincher) for which he was nominated for an Oscar and a Golden Globe in 2009, Coco avant Chanel (Anne Fontaine), The Twilight Saga: New Moon (Chris Weitz), Julie and Julia (Nora Ephron) and The Ghost Writer (Roman Polanski).
Alexandre Desplat has conducted the London Symphony Orchestra and the Royal Philharmonic Orchestra and he also gives master classes at the Sorbonne and the Royal College of Music in London
---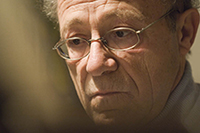 Alain Planès, pianist
Alain Planès, multi-faceted sensibility, discovered the piano at five, first played with orchestra three years later, and set off for the United States after the Paris Conservatoire in search of another way of making music: with Pressler, Sebök, Primrose and Starker, whose regular concert partner Alain Planès long remained in the USA and Europe.
Soloist, chambrist, accompanist, teacher – every aspect of his art arouses his interest. Moreover, he had the opportunity of discovering the entire classical and contemporary repertoire by playing it through on two pianos with François Michel, a friend of Stravinsky.
When he returned to France a few years later it was to become, at the request of Pierre Boulez, solo pianist of the Ensemble Intercontemporain, where he remained until 1981. His in-depth work with such eminent composers as Boulez, Stockhausen, Ligeti and Berio set the final seal on the eclecticism of his playing, and prompted the foremost music festivals to seek out his presence. These include La Roque-d'Anthéron, Montreux, Aix-en-Provence, and the prestigious Marlboro Festival.
---

BACK TO TOP