---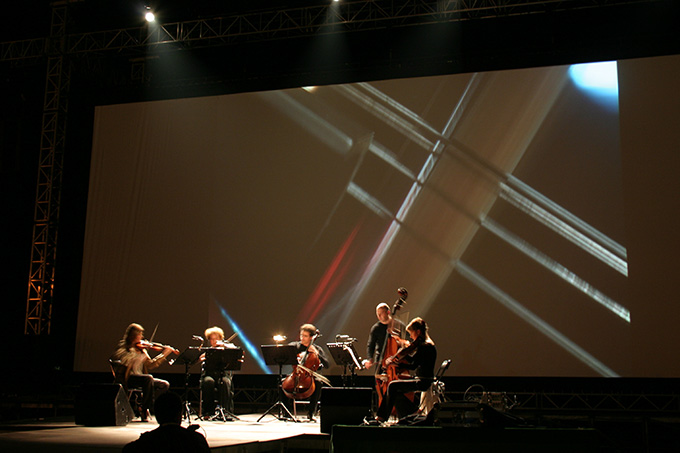 ---
Nouvelles Vagues
a show by Solrey
performed on December 11, 2005 at Cité de la Musique in Paris
Music: G. Delerue, A. Desplat, A. Duhamel, M. Jarre, E. Morricone...
Transcriptions: Alexandre Desplat
Video images: Solrey and Ange Leccia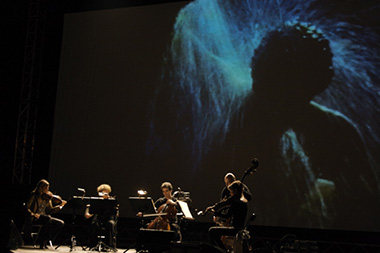 Traffic Quintet
Violin: Dominique Lemonnier, Anne Villette
Viola: Estelle Villotte
Cello: Vincent Ségal
Double Bass: Igor Goronian
---
And suddenly the first violin sounds like a harp, and the second follows, spreading his melancholy like one tells their beads... Distinctively rising, the voice of the cello alone distils the melody of a lost love of which the alto reflects the dull echo. The bass seems to propel unquenchable waves of thick smoky clouds that fill the screen, enchanting, winding, rising and renewing themselves from black to gray, from white to anthracite. Niagara smoke. And hyphenation. There are fleeting appearance of a sleeping face. The highs are emphasized. A beam of light shows in the night. The music fades. Poplars are gone. A light bulb went out behind a small window on a mysterious facade
Red suns, diffracted rays, and colorful figures arrive as if they were pouring out of a Miro painting, appearing and disappearing, like a geometric paramecium. Brigitte Bardot bursts in, wearing navy blue cardigan and patting her own shoulder before entering a red convertible, looking puzzled.
The same action repeats itself. Every one of Jean-Luc Godard half-smiles floats invisibly. The Quintet then flees and meets Steve Reich. And here you are, walking along an unreal blue road rimmed with high Gladiolus shining through an enigmatic dusk. A motorbike hurries down the slopes of a hill, and you only see its silver light. Going without looking back.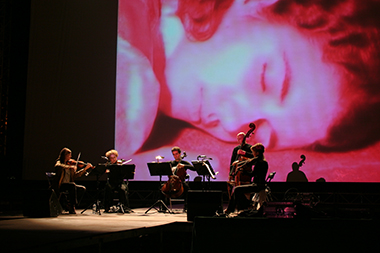 Never is there a description. Allusions to movies of which the music is here transcribed and listened to are few. No intention of narration: Solrey and Ange Leccia are working backwards compared to a film scorer putting music on images. In an intuitive mutual trust, they went towards a possible trance, a sophisticated rumination and a determined fluidity.
Abstract and sensual at the same time, the show is an "image-track" that brings up melodies forgotten in collective memory, movie theaters recollections, and rebuilt heritage. Images are almost subliminal. No memorial constraint.
Between resurrected, reconstructed and reinterpreted music and visual ambience of "association" lies the true meaning of conjugation. During the editing, the musical director has worked out slow motions, colorization, amplifications, and all kinds of framings, to achieve this idea of "ostinato" that characterizes the universe of Alexandre Desplat. His transcriptions are nothing less than compositions. The unusual structure of the ensemble, a classical string quartet with a double bass, leaves space for the cello and inherently possesses something "cinema", something obstinately cinema. Rhythm and movies!
A Galilea Music production
---

| | | |
| --- | --- | --- |
| 1. | Pierrot le fou (A. Duhamel) | 2:54 |
| 2. | Le Mépris (G. Delerue) | 5:15 |
| 3. | Jules et Jim (G. Delerue) | 2:25 |
| 4. | Garde à vue - Le Roi de cœur (G. Delerue) | 2:35 |
| 5. | Un héros très discret [I] (A. Desplat) | 2:27 |
| 6. | Un héros très discret [II] (A. Desplat) | 1:54 |
| 7. | La Peau douce (G. Delerue) | 2:12 |
| 8. | Peur sur la ville (E. Morricone) | 3:51 |
| 9. | Un héros très discret [III] (A. Desplat) | 2:13 |
| 10. | Sur mes lèvres (A. Desplat) | 5:23 |
| 11. | Le Dernier tango à Paris [I] (G. Barbieri) | 3:23 |
| 12. | Le Dernier tango à Paris [II] (G. Barbieri) | 3:04 |
| 13. | Le Dernier tango à Paris [III] (G. Barbieri) | 2:32 |
| 14. | Le Dernier tango à Paris [IV] (G. Barbieri)) | 4:09 |
| 15. | La Route des Indes (Maurice Jarre) | 2:31 |
| 16. | L'Important c'est d'aimer (G. Delerue) | 2:51 |
| 17. | Une aussi longue absence (G. Delerue) | 1:48 |
| 18. | Regarde les hommes tomber [I] (Alexandre Desplat) | 2:48 |
| 19. | Un héros très discret [IV] (A. Desplat) | 3:05 |
| 20. | Regarde les hommes tomber [II] (A. Desplat) | 2:23 |
---
---
---

BACK TO TOP