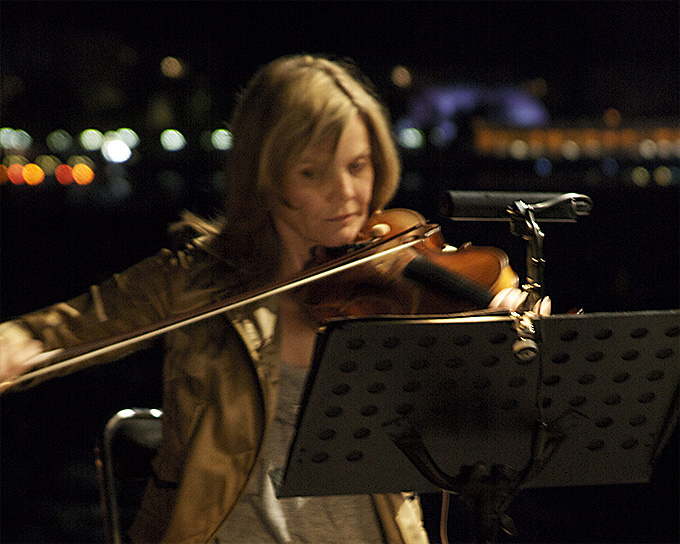 ---
Dominique "Solrey" Lemonnier,
musician
She discovered the world of music at an early age and developed with violin a unique relationship. From the age of eleven, she began to perform her first concerts and she obtained first prizes at Caen and Versailles conservatories. She was just 16 when she obtained her baccalauréat. She studied in Paris with Gabriel Bouillon, master of the French-Belgian school, and then with his disciple, Pierre Doukan. They taught her how to play with a precise bow and powerful performance led her to be invited to improve with the virtuoso Henri Temianka, in the United States, where she remained for two years.
Back in Europe, she discovered the mysteries of the baroque playing in Basel with Jaap Schroeder and she participated in numerous concerts in Switzerland with conductor Michel Corboz and in France with the cellist Christophe Coin.
Driven by her independent spirit and her thirst for freedom, she passionately explored philosophy, poetry, literature and fine arts:essential nourishments. Desiring new experiences, she performed with Nicolas Frize and initiated herself in jazz with Nana Vasconcelos, Vincent Segal, Jean-Louis Machado as well as in tango with Quartetto Cedron. She was present on stage with André Engel and Georges Lavaudant. She performed at the Arcs festival with Bernard Yanotta and participated in numerous recordings for movies while continuing her classical violinist career with the Orchestre Philharmonique de Radio France, California Chamber Orchestra, Ensemble Instrumental de Lausanne, 2E2M Ensemble, Mosaïques quartet, and most recently European Camerata.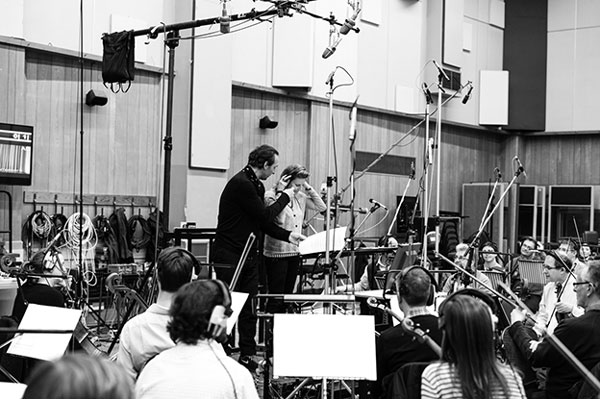 Out of all her artistic encounters, the meeting between the promising composer Alexandre Desplat and the fiery-tempered violinist Dominique "Solrey" Lemonnier, was in many ways essential. Together, they developed a language and a uniqueinterpretation, significant for the music he writes for Jacques Audiard and to which she was the inspirational muse and the main performer. Between them a now famous intimacy has been established. Thanks to her exceptional musicality, she became his solo violinist and his artistic director both for his concerts scores and his recordings in Paris, London, New York, Los Angeles…
Dominique Lemonnier, known as Solrey, influenced by her work with Alexandre Desplat on music to image, founded the Traffic Quintet in 2005. Thus, she carried out her desire to combine music with videos and fine arts. Whilst still offering her musicians creative transcriptions and a new role for each of them within the string quintet, she has the idea of making videos for each show, creatinga new cycle of music to image.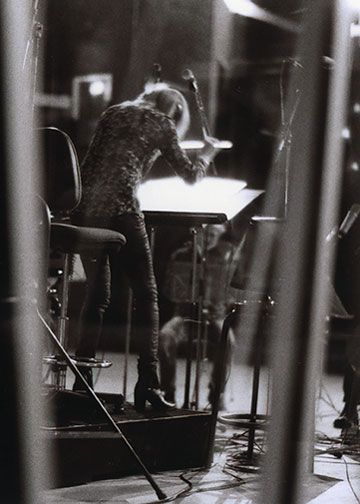 She manages to change the traditional perception of the classical chamber music concert into a visual and audio global experience. Leading her musicians with her violin, she precisely works the arrangements and creates a visual essay built on a selected musical band, together with modernity and inventiveness: as an alchemist attentive to possible echos, she combines music, pictures, memory, silence, loops, in a personal way open henceforth for the past ten years.
Solrey, a born violinist, driven by an always unique destiny was affected in 2010 by a paralysis of her left hand after a surgical brain accident. After four years of daily therapy with her left hand at the Hôpital des Invalides, she explored all the neurological possibilities and developed her creativity. Due to her determination, she has unexpectedly succeeded to be back on stage with her new shows ("Divine Féminin" at the Bouffes du Nord in 2011, "Quai de Scènes" at the Cité de la Musique in 2013), in challenging conditions but with great success. A new CD was released in 2016 for Universal
In 2016 Solrey directed "Alain Planès, l'infini turbulent", an intimate portrait of the pianist, Alain Planès, art collector, literature and poetry lover.
---

BACK TO TOP